Intense Senate Fight Over Biden Nominee To Key Position In Government Media
Controversial former Voice of America chief Amanda Bennett has been nominated to head US Agency for Global Media.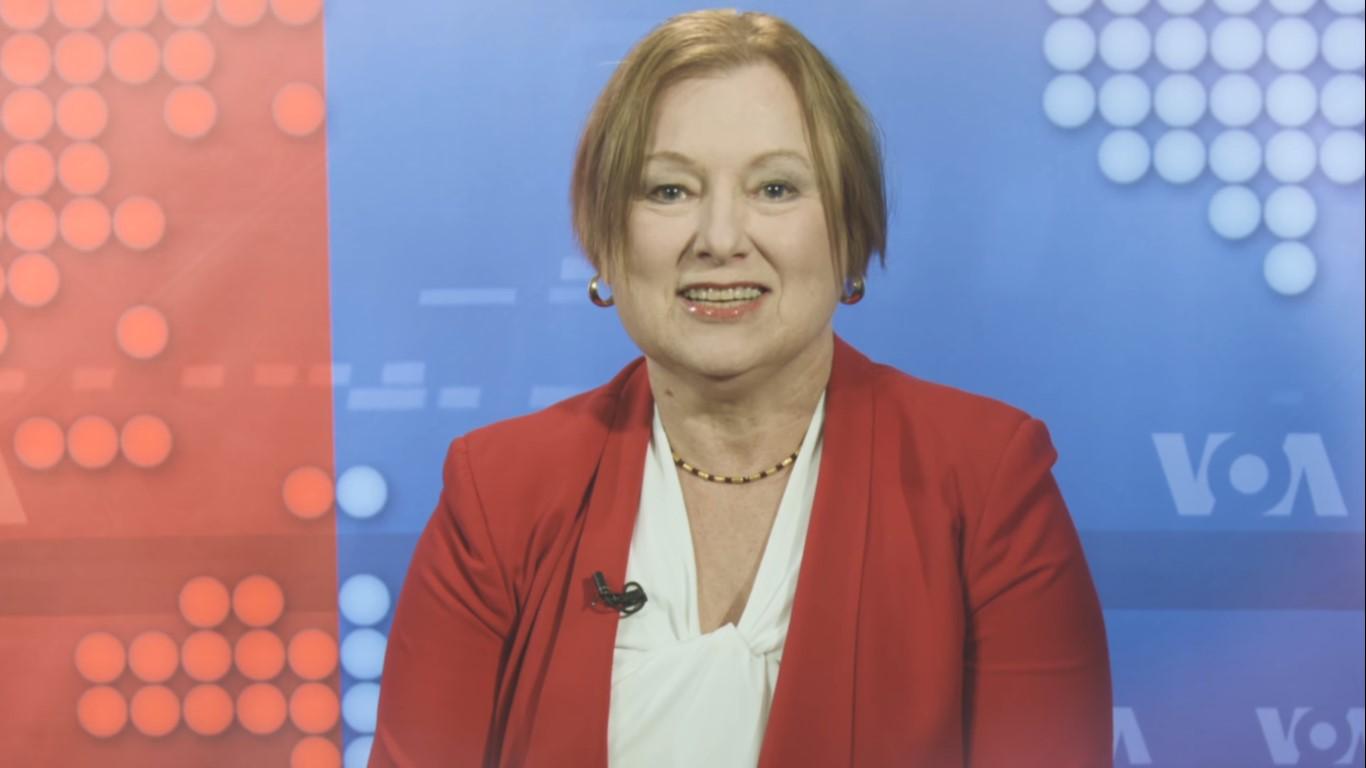 An intense partisan fight is unfolding in the Senate, where a controversial Biden nominee to lead federal government media is being scrutinized for possible links to China that could influence U.S. foreign policy and how it is presented to the world.
Amanda Bennett, an author and journalist who spent decades writing for the Wall Street Journal, has been nominated by the Biden administration to serve as Chief Executive Officer of the U.S. Agency for Global Media - USAGM, which oversees the Voice of America, Radio Martí, and other government media broadcasting in English, Spanish, Mandarin, and other languages to millions of consumers all over the world.
In 2016, Bennett became VOA chief before Donald Trump's election to the presidency. Later, documentary filmmaker Michael Pack took the helm of parent agency USAGM.
Bennett resigned in 2020 and later penned an opinion in the Washington Post that Pack was a "dangerous" pick to head USAGM. Also, Bennett wrote that the Trump administration was "doing its best to destroy this national treasure," and that Pack had "sown destruction" by issuing "harsh firings and suspensions" for a news segment directed at Urdu-speakers that was deemed to favor then-candidate Joseph Biden.
According to Bennett's official bio at the USAGM website: "Together with her husband, Donald Graham, she is a co-founder of TheDream.US, which provides college scholarships to the children of undocumented immigrants."
Graham, a Democratic Party stalwart and philanthropist, whose family once owned the Washington Post, currently heads an investment company with significant holdings in China.
Bennett's critics question whether her judgment about news is clouded by outside interests which may have affected her management of VOA. For example, former VOA Chinese language chief Sasha Gong, a naturalized American from China who was once imprisoned for her political activities there, has charged that VOA inexplicably terminated a live interview with controversial Chinese billionaire Guo Wenghui in April 2017, thus offering evidence of Chinese government influence in the federal agency.
Guo Wengui, who is also known as Guo Haoyun, Miles Guo, and Miles Kwok, is of indeterminate age. As of 2015, he owned an office and luxury hotel complex in Beijing, as well as real estate in London and New York City. That year, Forbes Magazine counted him as among the world's billionaires.
NBC News reported in August 2020 that Guo has been associated with Trump's former campaign manager, Steve Bannon, who was seen in July 2020 on board Guo's yacht cruising near Connecticut. Guo has been linked to the GETTR social media app, and GNEWS – a news service that regularly criticizes the Chinese Communist Party and Chinese government.
In exile since 2014, Guo faces corruption and rape charges in China, which sent a letter in 2017 via casino owner Steve Wynn asking Trump to deport him. Guo is also facing bankruptcy proceedings in the U.S., but has questioned the Department of Justice for selecting the Paul Hastings law firm to represent creditors, claiming that the firm has disqualifying ties to the Chinese government.
In 2019, Washington-area research firm Strategic Vision US alleged in federal court that Guo was serving the Chinese government to finger Chinese nationals cooperating with the U.S. government. For his part, Guo has accused various Chinese officials of conflicts of interest and moral misdeeds.
In February 2022, Guo claimed to have assets of no more than $500,000 but faces liabilities of $500 million. A New York state court has ordered Guo to pay $134 million to his creditors, having been charged with hiding the yacht from creditors. In 2020, Trump-ally Steve Bannon was arrested on unrelated federal charges on Guo's yacht.
VOA interrupts interview with Guo
In an extensive interview, journalist Gong said that China's covert influence in the VOA is extensive. As to whether there are paid Chinese agents within the agency, Gong said, "I have no idea. But I know there are people who are either agents, or who contact the Chinese embassy regularly and who promote the Chinese government and Chinese Communist Party in the social media accounts."
Gong said she fears some VOA journalists and employees may be intimidated by threats issuing from China. Some, she alleged, are related to officials of the Chinese Communist Party and/or Chinese government.
As evidence of alleged Chinese influence at VOA, Gong provided an affidavit recounting her preparations for the Guo interview for VOA's Issue and Opinion broadcast. VOA advertised the interview in advance on April 13, 2017. Guo's pre-condition for the interview was that it be live.
On April 17, 2017, China issued an arrest warrant for Guo, Gong wrote, adding that VOA's Beijing Bureau Chief Bill Ide was summoned to China's Foreign Ministry. That day, according to Gong's affidavit, she received the following email from Ide alluding to his contacts with Chinese officials:
"During the discussion, Ma cited a range of concerns and said that by airing the interview it gives them the impression that we have some kind of hidden political agenda. She said it concerns them that we are giving a man who is a wanted criminal in China a podium without questioning the allegations that he is making. They also noted concern that this is happening ahead of the 19th party congress" of October 2017.
As quoted by Gong, Ide commented: "Obviously, there is no way or reason for us to not air the interview, but if there is there anything you would like to say to the Foreign Ministry, perhaps you could send an email to both Luo and Ma." Ide provided Gong with emails for the two Chinese officials.
Gong also shared that her predecessor as head of Mandarin at VOA, Jing Zhang, called her that day, who "expressed his concern regarding pressure from the Chinese government and suggested cancelling the interview," which he said was "not worth the two visas of VOA journalists that the Chinese government threatened to revoke."
Gong asked Zhang to inform VOA management "because the Chinese direct intervention with VOA news operation was very peculiar."
Gong told Zhang that VOA "should not cave into the Chinese pressure."
On April 18, 2017, Gong was informed that Amanda Bennett was in Africa but wanted to speak to her. In the interview with Zenger, Gong said that she did not, however, speak with Bennett immediately before the Guo interview.
VOA personnel continued to interfere with preparations for the Guo interview, Gong charged.
On April 19, 2017, Gong interviewed Guo live for 45 minutes and had the expectation of continuing the interview. However, during the following social media portion of the Guo interview, Robert Li of VOA contacted Gong and told her that Zhang had told him to terminate the interview immediately. Gong wrote: "This was very unprofessional."
In her affidavit, Gong accused Bennett, and VOA colleagues Kelu Chao, Sandy Sugawara, Norm Goodman, and Jing Zhang of "gross mismanagement" that served to "deflect attention from VOA's decision to cave to Chinese pressure regarding the Guo interview."
Chao, who was born in Taiwan, is the current acting head of USAGM.
On May 1, 2017, Gong was informed by VOA that she had been placed on administrative leave. She later shared her opinion about VOA's alleged "mismanagement" in a Wall Street Journal op-ed.
In her affidavit, she wrote that she is concerned for her safety, saying that she is nervous about "individuals within VOA that are agents of the Chinese government." She shared with VOA what she said was public information about VOA employees who may be Chinese agents.
In 2018, VOA announced that Gong had been dismissed over the interview with Guo. VOA claimed that "independent investigators" had found no evidence it had "caved in to pressure from the Beijing government and may have been infiltrated by a Chinese spy."
Bennett nomination challenged
In a June 23, 2022, letter to President Biden, John Zadrozny of America First Legal Foundation – a nonprofit law firm based in Washington D.C. – urged the president to withdraw Bennett's nomination. America First claimed that at the time of Bennett's tenure, there were "significant national security lapses and other questionable conduct within USAGM and, apparently, VOA."
The letter added that Bennett has "declined to provide, much less satisfactory, information about her response to these problems."
Among the problems mentioned by Zadrozny was alleged systematic abuse of J-1 visas issued by the State Department for VOA employees. J-1 visas are for non-immigrant research conducted by scholars, professors, and cultural exchange visitors, especially to obtain medical or business training in the U.S. According to the U.S. State Department, however, members of foreign media, press, and radio must obtain either a non-immigrant I visa, or an immigrant visa.
Zadrozny also referred to alleged mismanagement of government funds on Bennett's watch at VOA, linking to a letter from Rep. Michael McCaul (R-TX), ranking Republican member on the House Committee on Foreign Affairs, to Sen. James Risch (R-ID) of Senate Foreign Relations, "millions of dollars in taxpayer funds" were wasted after the Voltron content management system was ultimately abandoned. He wrote that Voltron had been allegedly linked to Donald Graham, Bennett's husband.
"A thorough and fully transparent accounting of Ms. Bennett's tenure as VOA Director, and of her family's business ties to the CCP, is needed to answer very serious questions regarding her past conduct and her present fitness to serve as USAGM's CEO," wrote Zadrozny of America First to President Biden.
Among the board members of America First Legal Foundation are Trump's former chief of staff Mark Meadows, former Acting U.S. Attorney General Matthew Whitaker, and former Senior Advisor Stephen Miller.
Initial Senate Approval
In a June 23 closed door meeting, the Senate Foreign Relations committee approved Bennett along party lines.
In an earlier, open committee hearing on June 7 of this year, Republican Sen. Ted Cruz questioned Bennett about reports of China's arrest warrant for Guo that came just before his interview with VOA correspondent Gong in 2017. Cruz also recalled that China's foreign ministry summoned VOA's Beijing correspondent, he said, to complain that the planned interview would "disturb the 19th Communist Party Congress" that year.
Bennett told Cruz she had not been "personally contacted" by Chinese news organizations in advance of the Guo interview. However, she admitted in a transcript acquired by Zenger: "To my knowledge, VOA officials were contacted by CCP or PRC officials."
Bennett went on to say: "I recall that the Chinese Foreign Ministry contacted the VOA Beijing Bureau Chief to raise concerns about going forward with the interview and that the VOA Deputy Director took a call demanding that VOA not air the proposed broadcast."
Bennett defended her record, saying she had promoted unbiased editorial standards throughout her decades-long career as a journalist.
Cruz expressed his disapproval of Bennett, as did Republican Sens. Marco Rubio, Bill Hagerty, and Ron Johnson.
In his letter to Biden, Zadrozny of America First Legal also charged Bennett with a "failure to act" when the Iranian government allegedly sought to abduct journalists of VOA's Persian language service. This came, the letter charged, during efforts by Iran to silence and murder dissidents.
"However, Ms. Bennett's director of VOA Persian, Setareh Derakhsheh, declined to take any action and reportedly did not take the information seriously," Zadrozny wrote, adding that Derakhsheh "had earned a reputation for being remarkably uncritical of the Iranian regime."
Asserting that it is "implausible" that Bennett was not aware of the threats against VOA Persian journalists, while failing to act forcefully to protect VOA workers, the letter stated that "her deference to Derakhsheh are highly suggestive of poor stewardship."
During his tenure as CEO of U.S. Global Media, Michael Pack fired Derakhsheh. However, she was rehired by the Biden administration.
Pack was subjected to media criticism over Derakhsheh's dismissal, as well as what he termed were "systemic, severe and fundamental security failures" at U.S. Agency for Global Media discovered by cooperating federal agencies.
In a July 2020 announcement, he said that he had ordered a "comprehensive investigation" out of concern that the agency's failures compromised its mission and posed a threat to national security. "Decisive action is required to protect our country, the integrity of USAGM, and the safety of our journalists in America and abroad," he wrote.
Once President Biden took office, the office of the inspector general of the State Department exonerated six executives of U.S. Agency for Global Media whose security clearances had been suspended during Pack's tenure.
In an interview with podcast host Chris Bedford, according to a transcript released by The Federalist website, Pack said of VOA, "To be a journalist is a great cover for a spy – famous journalists like Kim Philby who worked for the BBC… It's just a great cover. And from the beginning of the Cold War, even earlier, they've been penetrated. It [the field of journalism] is a great place to put a foreign spy. I have to make sure that doesn't happen – to stand up for the national security interests of Americans."
Repeated questions via telephone and email to VOA Public Affairs have gone unanswered.
Topic tags:
China media Biden administration