Day Forty-Two Of Swords Of Iron
Hezbollah rocket fire from Lebanon into Israel picks up.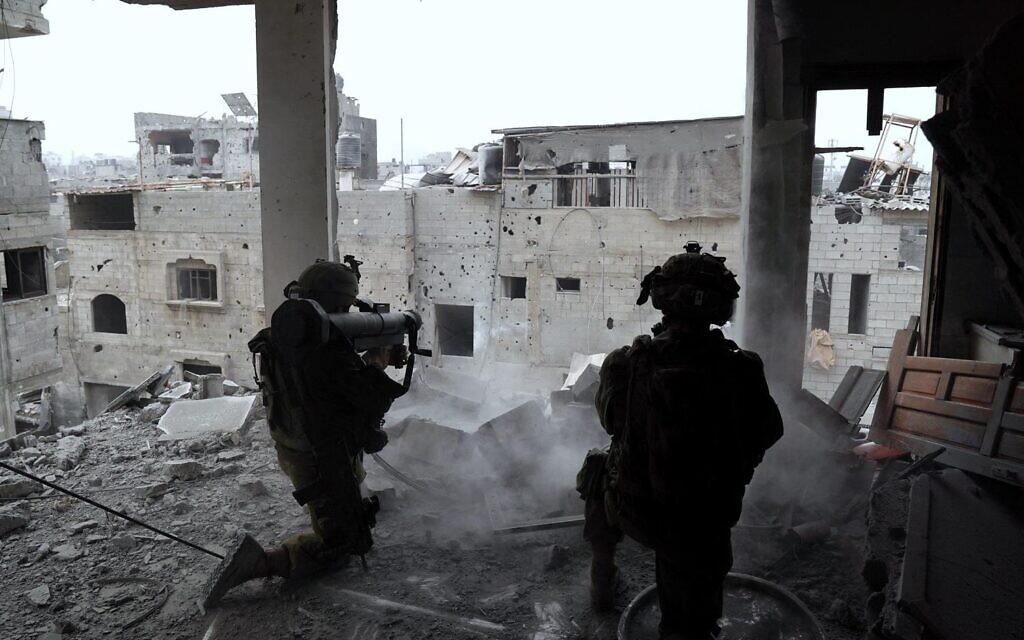 3:00 pm
The Anne and Max Tanenbaum Jewish school of Toronto, Ontario, was evacuated this morning following a bomb threat. The emailed threat The bomb threat was sent to school staff and promised "Death by fire" and "Many Jews will die today." It said bombs had also been planted in the parking lot. Police evacuated the school as a precaution. An investigation is ongoing.
2:36 pm
The Deputy Speaker of Israel's Knesset, Nissim Vaturi, said: "All of this preoccupation with whether or not there is internet in Gaza shows that we have learned nothing. We are too humane. Burn Gaza now no less!" "Don't allow fuel in, don't allow water in until the hostages are returned back!" he added.
President Bide phoned Qatari Emir Tamim bin Hamad Al-Thani on the "urgent need" for the 240+ hostages "to be released without further delay," according to the White House. 
During the Israeli war cabinet's meeting on Nov. 16, PM Netanyahu phoned Pres. Biden, urging him to pressure Qatar's emir to expand the number of hostages eing negotiated by Qatar, Israel, and the US.
The IDF found more Hamas infrastructure beneath the Al-Shifa hospital complex, and continued to search for signs of hostages. IDF Spokesman Rear Adm. Daniel Hagari said on the evening of Nov. 16: "We continue to deepen our operational activity at Shifa Hospital," and added, "Today, we found more underground infrastructure, and to collect every bit of information on the hostages." "Our troops are operating in the area, investigating the tunnel shafts found in the hospital," he said.
The damage to Gaza caused by the war will take five years or more to repair, according to Israel's security establishment, said Israel's Channel 12. 
The death count from the Re'im music festival massacre was adjusted to 364 or nearly one-third of all of those killed on Oct. 7. Earlier accounts had put the death toll at 270. Additionally, 40 festival-goers were abducted. Israeli security assessed that Hamas was unaware of the festival when the onslaught began. 
Israeli PM Netanyahu gave an indication that Israeli troops won't remain in Gaza following the war, even if it maintains security control there. "I'm not sure of keeping troops inside. And in fact, it's not particularly necessary because it's very small," Netanyahu told NPR. As for who will govern Gaza, he said, "We need a cultural change in any civilian administration in Gaza. It can't be committed to funding terrorism." Netanyahu said Israel cannot accept anyone who shares Hamas's goals, nor its inculcation of hatred for Jews.."For the foreseeable future, Israeli overall military responsibility. But there also has to be a civilian government there," he said.
Maj. Gen. Yaron Finkelman, carried out an assessment at Al-Shifa Hospital in Gaza and said, "We see the presence of Hamas in all hospitals, it is a clear presence. They make cynical use of the hospitals, like here in the heart of Shifa." Finkelman was talking to troops where they had uncovered an entrance to a Hamas tunnel and a cache of weapons. The IDF released new images showing the tunnel shaft found in the hospital complex.
The White House excoriated billionaire Elon Musk after the X and SpaceX owner endorsed an antisemitic post on his social media platform that accused Jewish people of driving hatred against white people. "You have said the actual truth," Musk tweeted in response to another X user who wrote, "Jewish communties [sic] have been pushing the exact kind of dialectical hatred against whites that they claim to want people to stop using against them. I'm deeply disinterested in giving the tiniest shit now about western Jewish populations coming to the disturbing realization that those hordes of minorities that support flooding their country don't exactly like them too much." White House spokesman Andrew Bates said, "It is unacceptable to repeat the hideous lie behind the most fatal act of antisemitism in American history at any time, let alone one month after the deadliest day for the Jewish people since the Holocaust." He added, "We condemn this abhorrent promotion of antisemitic and racist hate in the strongest terms, which runs against our core values as Americans," Bates says. "We all have a responsibility to bring people together against hate, and an obligation to speak out against anyone who attacks the dignity of their fellow Americans and compromises the safety of our communities."

Portugal's foreign ministry stated that three of its citizens and two of their relatives were killed in an IDF bombing in Gaza. Portugues Foreign Minister Augusto Santos Silva expressed his country's "disgust" over the incident with his Israeli FM Eli Cohen. Silva stated that this is further proof that Israel "is not on the right path" in this war. "We need to stop these bombings now." Earlier in November, Portuguese President Marcelo Rebelo de Sousa was challenged by the Palestinian ambassador to Portugal over Israel's war in Gaza. "I know, I know you blame the Israelis, but this time someone from your side started it," responded Rebelo de Sousa "The Palestinian side started it. You can't blame Israel, you shouldn't have started it."
Hamas terrorists published a video apparently showing 86-year-old Aryeh Zalmanovich, one of the Israeli hostages held in Gaza. Concerns were raised about Zalmanovich's wellbeing. He was abducted from Kibbutz Nir Oz on October 7 and has not been heard from since. Before disappearing, he texted one of his sons informing him that terrorists had infiltrated the Kibbutz, of which he is a founder. He has two sons and five grandchildren.
10:30 am
Former Israeli PM Ehud Olmert said that the real headquarters of Hamas is in Khan Younis, in southern Gaza. 
9:40 am
President Biden made clear to Israel that the only answer for the Palestine question is a two-state solution. 'U.S has been trying to get, from day one, an answer from Israel. What is the end game? How does it visualize the day after?... Netanyahu is not ready to answer that,' Yossi Mehlman told i24. Melman is an award-winning Israeli journalist.
A pro-Palestinian group called "intifada" and Israel's destruction posted maps online detailing the locations of the New York Times, Union Station, and Jewish organizations in New York City and said they had "blood on their hands." New York City police are looking into the post, which has sparked condemnation from Jewish community leaders and elected officials. Manhattan Borough President Mark Levine (D) called the posts "dangerous and reprehensible."
 
7:46 am
Mortars fired from Lebanon into Israeli communities Adamit and Arab al-Armshe, setting off sirens. The mortar rounds landed in open areas without causing damages or injuries, according to the IDF. Israeli military fired back with artillery at the sources of fire. 
In a first, Israel agreed to permit two fuel trucks into Gaza for the UN and water/sewer systems, according to an Israeli official. IDF and Shin Bet security decided to allow them under US pressure.  It is intended "to enable the minimal maintenance necessary for water, sewer and sanitary systems to prevent pandemics that could spread to the entire area, hurting residents of the Strip as well as our own forces and potentially spreading into Israel as well." The Israeli official said that it "will offer Israel the necessary diplomatic maneuvering room to eliminate Hamas." Israel, according to The Times of Israel, will ensure the fuel doesn't reach Hamas.
Rocket sirens were activated in the southern city of Ashkelon. No reports of damages or casualties.
The IDF released footage of strikes on Hamas terrorists at an observation position in the Beit Hanoun area of northern Gaza. Another video showed a strike on three Hamas terrorists armed with RPGs and assault rifles, also in Beit Hanoun. The terrorist cells were identified by Israel's Border Defense Corps' 636th elite observation unit.
Israel's Health Ministry asked medical schools to integrate medical students studying abroad who were called up for military duty during the war. An estimated 200 such medical students are at risk of falling behind because their academic years abroad are already underway. "We promise medical students who are now serving on the front lines that the State of Israel will not leave them behind. We will act in every possible way to provide them with the tools to fulfill themselves after the war to show them our appreciation and as part of the national effort," says Health Minister Uriel Busso. Health Ministry director-general Mosher Bar Siman Tov says the country has a moral duty toward medical students who received and responded to military call-ups, and that integrating them into Israeli medical schools will be part of an ongoing effort to increase the spots in the country's universities for those wishing to pursue medical studies.
Hamas leader killed
Palestinian media reported that Hamas leader Ahmad Bahar (76) was killed by an Israeli strike in Gaza. He was vice president of the Palestinian Legislative Council.
Hezbollah terrorists in Lebanon fired rockets at Israeli army positions on the border, near the northern towns of Malkia and Menara. There are no reports of injuries in the attacks. IDF responded with artillery fire. IDF says fighter jets hit a number of Hezbollah sites in southern Lebanon, including a weapons cache. Israeli troops struck terrorists in southern Lebanon preparing an attack near the northern village of Arab al-Aramshe. 
The IDF its troops received fire from terrorists in vehicle operating at an intersection near the West Bank city of Hebron. Reservists of the 8106th Battalion returned fire, killing the gunman and the driver, the IDF says. The IDF seized a makeshift submachine gun used by the attackers. No soldiers were hurt.
For the second day, communications are down in Gaza because there is no fuel to power internet and phone networks. Aid agencies therefore halted cross-border deliveries of humanitarian supplies.
Gaza is hungry and thirsty
According Abeer Etefa of the UN World Food Program, Gaza is receiving only 10 percent of its needed food supplies daily, and dehydration and malnutrition are growing with nearly all of the 2.3 million people in the territory needing food. "People are facing the immediate possibility of starvation," she said from Cairo. "There is no way to meet the current hunger needs," she said today. She addeing, "The existing food systems in Gaza are basically collapsing."
Israeli police arrested five persons suspected of stealing sound equipment from Matan Lior (35): one of the murdered victims at the Supernova music festival, which was raided on Oct. 7 by Hamas terrorists. Worth approximately $530,000, the equipment was return to the victim's father. Arrested in various Arab communities, the suspects arrived after the violence and used the cover of the ensuing chaos to steal Lior's equipment.
Thousands of Israelis are walking to Jerusalem for the fourth day, headed for the office of PM Netanyahu, to rally on the evening of Nov. 18. Germany's ambassador Israel, Steffen Seibert, joined the marchers and called for the unconditional release of all captives. He said Germany is pushing for that. "We have been with you in our hearts and in our minds since October 7. We feel the pain with you. We pray and hope all day, all night, for the release of everyone," he said.
According to a source cited by The Times of Israel, a "small nucleus estimated at a few hundred extremists, at most" are responsible for instigating violence against Arab Israels attributed to settlers. The cabinet, it said, has taken measures against settler violence, following pressure by the US. PM Netanyahu said most settlers in the West Bank (Samaria and Judea) are law-abiding. He said,  "there is a tiny handful of people… who take the law into their own hands… We are not prepared to tolerate this."
Israel doesn't rule out PA rule in Gaza
According to The Times of Israel, an Israel may not have ruled out the idea of Palestinian Authority governance in Gaza's future, as pressured by the US. However, PM Netanayahu said PA will  "need to undergo significant reforms in order to do so."
The Biden administration has publicly called on Israel to plan for post-war governance of Gaza if the IDF can destroy Hamas, which currently rules the enclave. The US argues that failure to prepare in advance risk a quagmire for Israel in Gaza. Netanyahu says the IDF will maintain overall security in Gaza for an indefinite period. Secretary of State Blinken came out against the policy on Nov. 16. The Times of Israel reports that Israel has officials working on "day after" plans and is consulting the Biden administration. 
However, the newspaper said that Israeli sources see disorder in the Biden administration as officials in the White House and the State Department are both working the issue, saying "but we still don't know who is going to lead that in the administration."
The Third Front
IDF troops clashed with terrorists in the West Bank city of Jenin and adjacent refugee camp overnight, captured weapons and ran down terrorists seeking refuge in a hospital. The Israeli raid captured explosive devices belonging to local terror groups. An Israeli armed drone struck terrorists firing at IDF troops. Palestinians hurling explosives were also shot. The IDF says at least five terrorists were killed, and six assault rifles recovered in Jenin. Palestinian media, however, reported three dead. The Border Police detained seven wanted Palestinians in Jenin, Qasem Jabari, a member of a local terror group.
Terrorists fled in cars and an ambulance toward Ibn Sina hospital  for refuge. Police stopped one of the cars and arrested one of the terrorists, finding three assault rifles.
An Israeli official said "There have been some public statements that appear as though the US is turning in a different direction, but I don't think that is the case." The official said the US has has concerns about "collateral damage and humanitarian issues.""We really listen to them and we do what we can [to address their concerns], as long as it doesn't undermine our ability to operate on the ground militarily."
1,000 trucks of humanitarian aid that have entered Gaza in recent weeks, and that number will increase, said the official. Humanitarian corridors the IDF set up to allow Gazans to flee south, away from the most intense areas of fighting, also shows concern for civilians, the official said. Israel is facilitating field hospitals by foreign governments in southern Gaza as well as floating hospitals off the coast of Egypt. A ship sent by the French government will arrive soon, and the UAE and Turkey are in talks to establish their own field hospitals in southern Gaza, the official said. "These hospitals can accept patients from hospitals in the north," the official says, adding that Israel is coordinating with both the UN and Egypt.
IDF seizes Iranian rocket
IDF troops raided terror sites in Gaza and captured an Iranian-made Badr-3 rocket. Fighter jets targeted Hamas sites as troops fought Hamas terrorists overnight. Airstrikes conducted against hamas sites, including weapons storage facilities, as well as against terror operatives.
Israel's Bislamach Brigade and the elite combat engineering Yahalom unit raided an Islamic Jihad outpost in northern Gaza, locating Iran-made Badr-3 rockets, drones, and other weapons. The Badr-3 is claimed to have a range of 160 kilometers and a 250-kilogram explosive warhead. Some of the rockets were brought to Israel for research purposes. The Islamic Jihad outpost was later destroyed.
Troops of the Givati Infantry Brigade meanwhile battled Hamas operatives holed up in a school, the IDF says. Several gunmen were killed in the fighting, and the troops later recovered weaponry.
Troops of the Nahal Infantry Brigade, Paratroopers Brigade, and the 460th Armored Brigade raided numerous other Hamas sites overnight, discovering assault rifles, explosive devices, RPGs, anti-tank missile launchers, and other equipment, according to the IDF.
Israeli PM Netanyahu commented to CBS News on Nov. 16 about a possible release of hostages held by Hamas. He said, "We are closer than before we began the ground action," he says. "The ground action has put pressure on Hamas to achieve a ceasefire. We'll have a temporary ceasefire if we can get our hostages. I don't think it serves that purpose for me to elaborate further on that." He said the hostages' return is one goal of the war, which includes destroying Hamas and ensuring "that terrorist threat never rises again from Gaza, and that Gaza has a different future."
He also said there is "concrete evidence" on the use of Al-Shifa Hospital in Gaza City for military purposes, alleging Hamas eaders and "terrorist minions" fled the medical facility as Israeli forces neared. "We are doing this very gingerly because we're trying to do the moral thing, the right thing, to deprive Hamas of having this safe zone in a hospital, but at the same time to neutralize its use as a command center for terror. And so far we've achieved that," he said. He said Israel strives to  limit civilian casualties, but Hamas "doesn't give a hoot" about Palestinians.
"We'll try to finish that job with minimal civilian casualties, that's what we're trying to do, minimal civilian casualties, but unfortunately we're not successful," he said. Netanyahu said Israel wants "overall military responsibility to prevent the re-emergence of terror" in Gaza but not to reoccupy. Regarding alleged violence by Jewish settlers in Judea and Samaria, he said, "We hold anyone taking the law into their own hands or committing vigilante violence — that is out, we cannot accept that."
7:39 am
The mother of Israeli army Cpl. Noa Marciano, said at the soldier's funeral, "We won't forget or forgive." Marciano was an IDF border observer at the Nahal Oz IDF base, which was overrun by Hamas terrorists on Oct. 7. Hamas abducted her and recorded a video of her. Her body was discovered by Israeli troops in norther Gaza and returned to her family in Israel on Nov. 16. Mother Adi Marciano said, "In our last phone call [as the attack unfolded] you didn't say 'What will happen to me, how will I survive?' but rather 'What will happen to the new observers who only arrived two days ago?' That's what you were thinking of in those moments of terror." The mother said, "Everyone is hurting over your leaving… You left many touches of love behind. You are resting now, but we will not stop. We won't forget or forgive." Marciano's body was found on the premises of Gaza's Al-Shifa hospital, where Israel says harbors Hamas's underground headquarters.
November 17, 2023
Topic tags:
Swords of Iron United States Israel